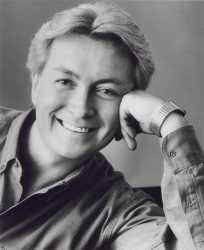 Michael Ballam has had an operatic and recital career spanning four decades and every continent. A native of Logan, Utah, Mr. Ballam has performed in the major concert halls of America, Europe, Asia, Russia and the Middle East, with command performances at the Vatican and the White House. His operatic repertoire includes more than 600 performances of over 100 major roles. He has shared the stage with the world's greatest singers, including Joan Sutherland, Beverly Sills, Kiri Te Kanawa, Birgit Nilsson, and Placido Domingo, performing regularly with such companies as the Chicago Lyric, San Francisco, Santa Fe, Dallas, Washington, Philadelphia, St. Louis and San Diego Operas. As a recitalist, Mr. Ballam has performed with critical acclaim in some of the most important concert halls in the country, including the Kennedy Center (Washington DC), Orchestra Hall (Chicago), Jordan Hall (Boston), Jones Hall (Houston), and the Los Angeles Music Center. He has also performed with Broadway legends Karen Akers, Tammy Grimes, Douglas Fairbanks Jr., Jean Stapleton and Ethel Merman.


At the age of 24, Mr. Ballam became the youngest recipient of the degree of Doctor of Music with Distinction in the history of the prestigious Indiana University. An accomplished pianist and oboist, he is the Founder and General Director of the Utah Festival Opera, which is fast becoming one of the nation's major Opera Festivals. Professor of Music for the past 24 years at Utah State University, he has also been a faculty member at Indiana University, The Music Academy of the West, University of Utah, Brigham Young University (where he was awarded the Teaching Award in Continuing Education in 1992) and guest lecturer at Stanford, Yale, BYU Idaho, Catholic University and Manhattan School of Music.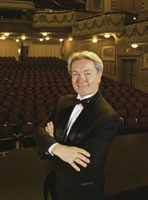 He is the author of over 40 publications and recordings in international distribution, has a weekly radio program on Utah Public Radio, starred in 3 major motion pictures and appears regularly on television. Dr. Ballam serves on the Board of Directors of twelve professional Arts organizations. In 1996 he was designated one of the 100 Top Achievers in the State of Utah by Prime Minister Margaret Thatcher of the U.K., appointed Artist Extraordinaire by the Governor of Utah in 2003, given Honorary Life Membership to the Utah Congress of Parents and Teachers, received the "Excellence in Community Teaching Award" from the Daughters of the American Revolution in 2007 and was awarded the Gardner Award by the Utah Academy of Science, Arts and Letters, for "Significant Contributions in the Humanities to the State of Utah" in 2010.